Watercolor Workshops in Southern Morocco
Morocco's Watercolor and Travel Book 2021 workshops! 
The balanced alternation of theory and practice, spread over 9 intensive days, will make you proud of your creations and your travel diary at the end of this week of workshop with Morocco ecoway, Everyday a new place, a new theme, a different trip.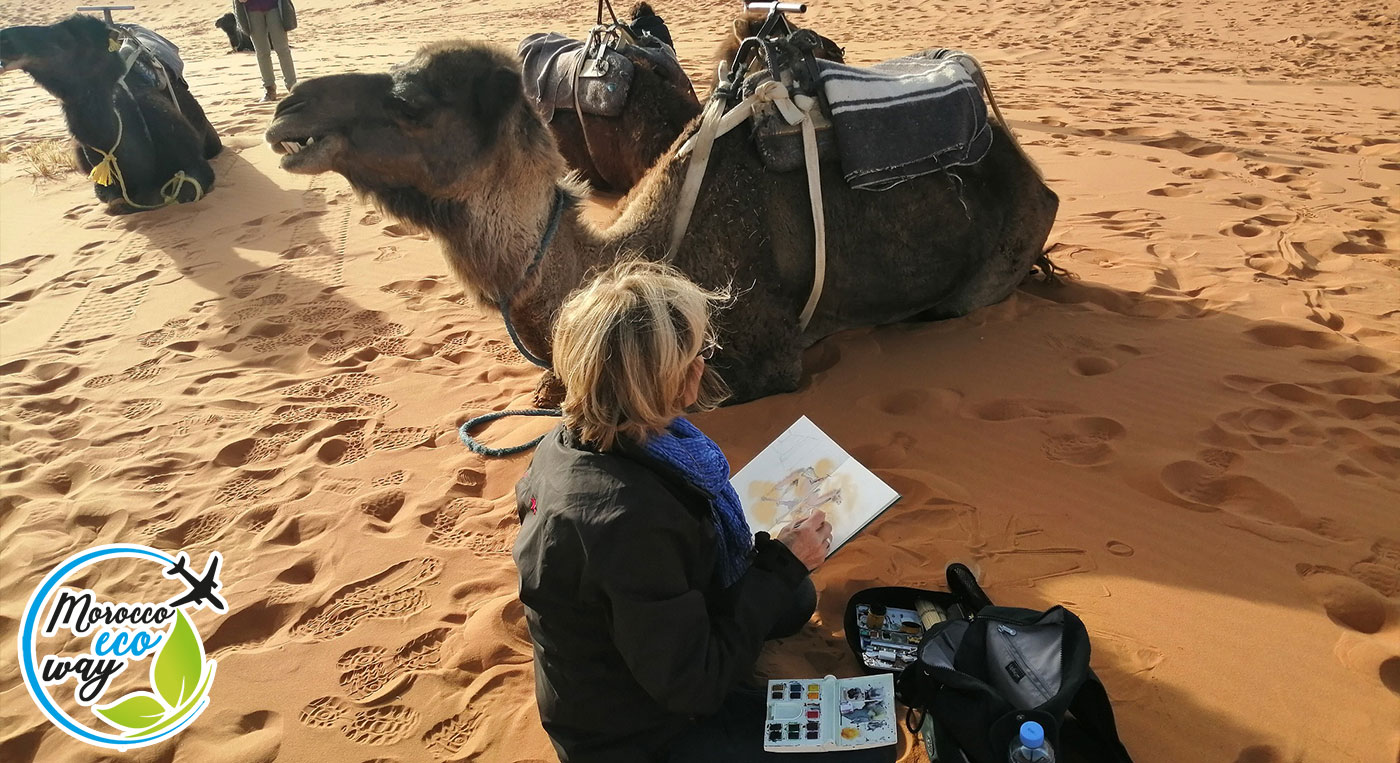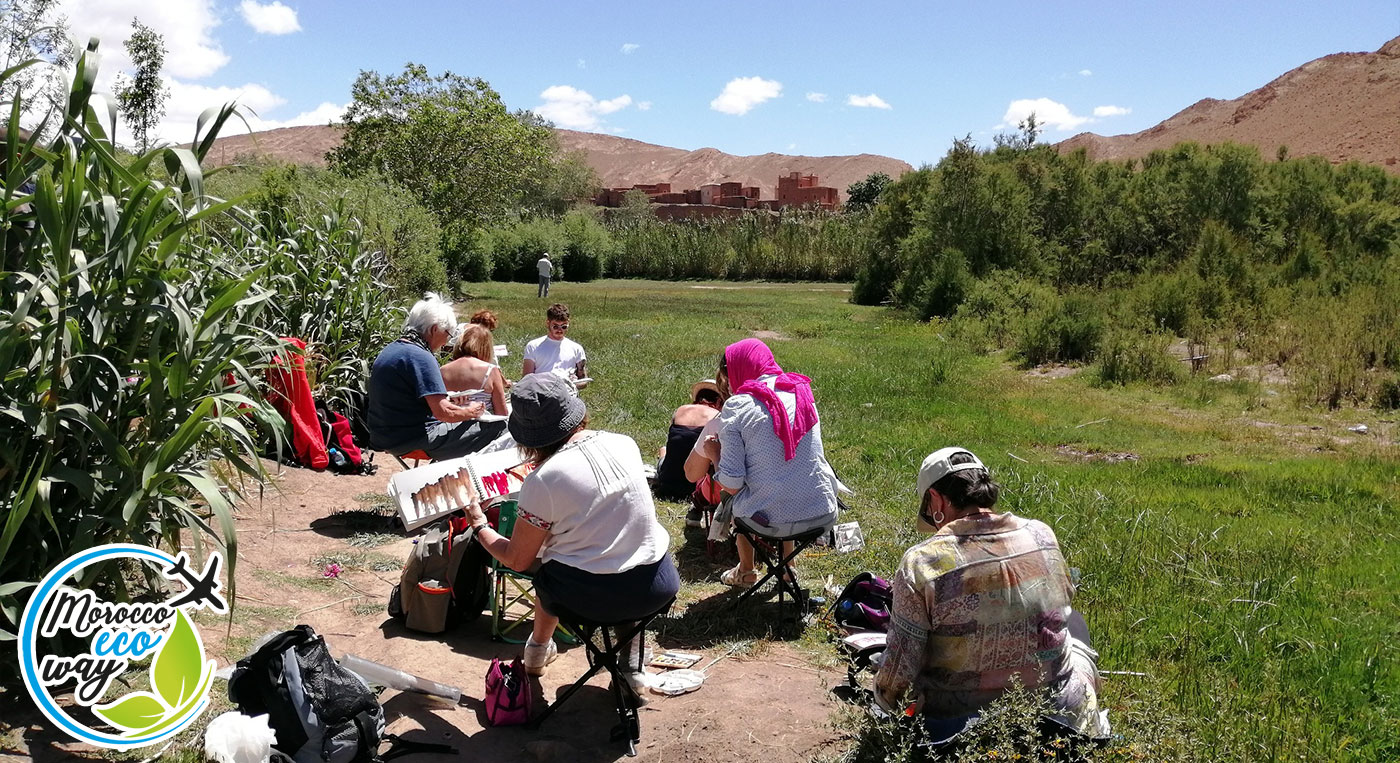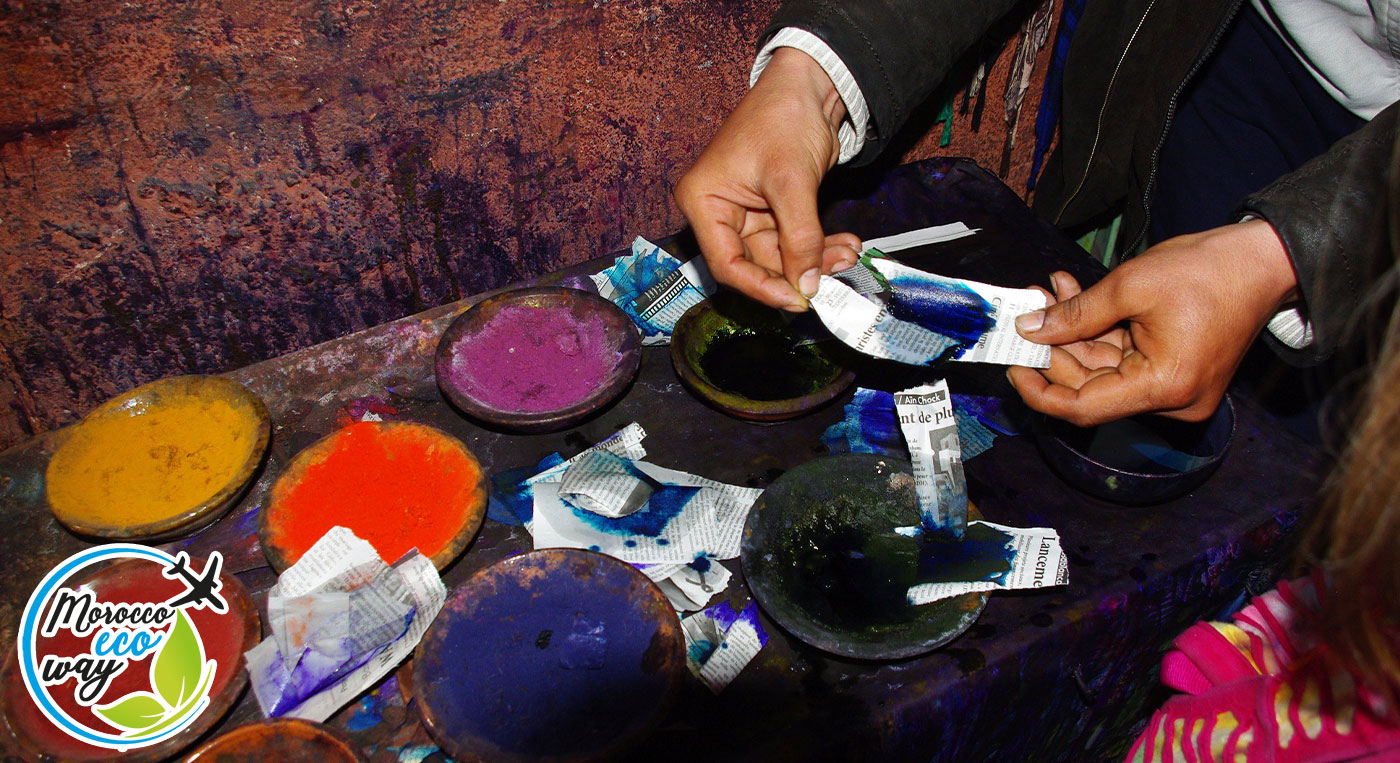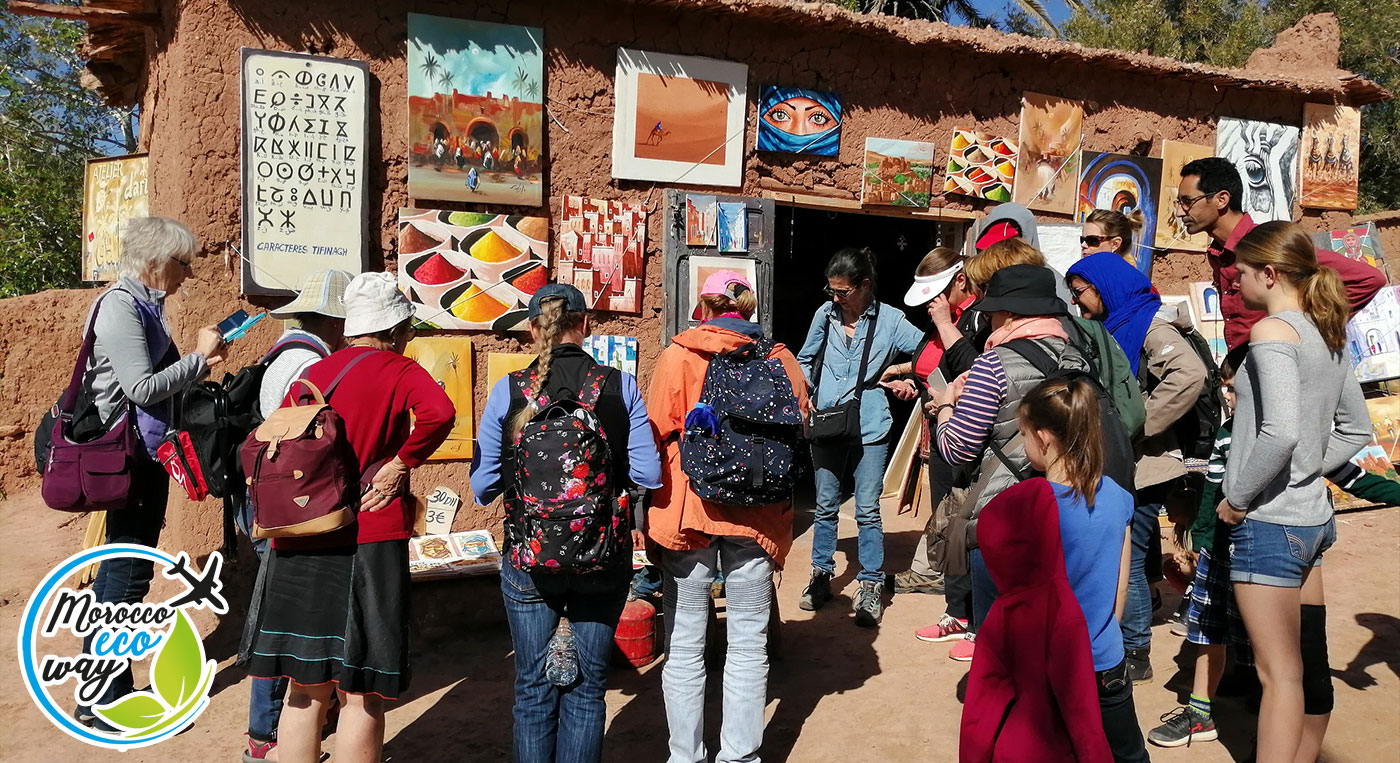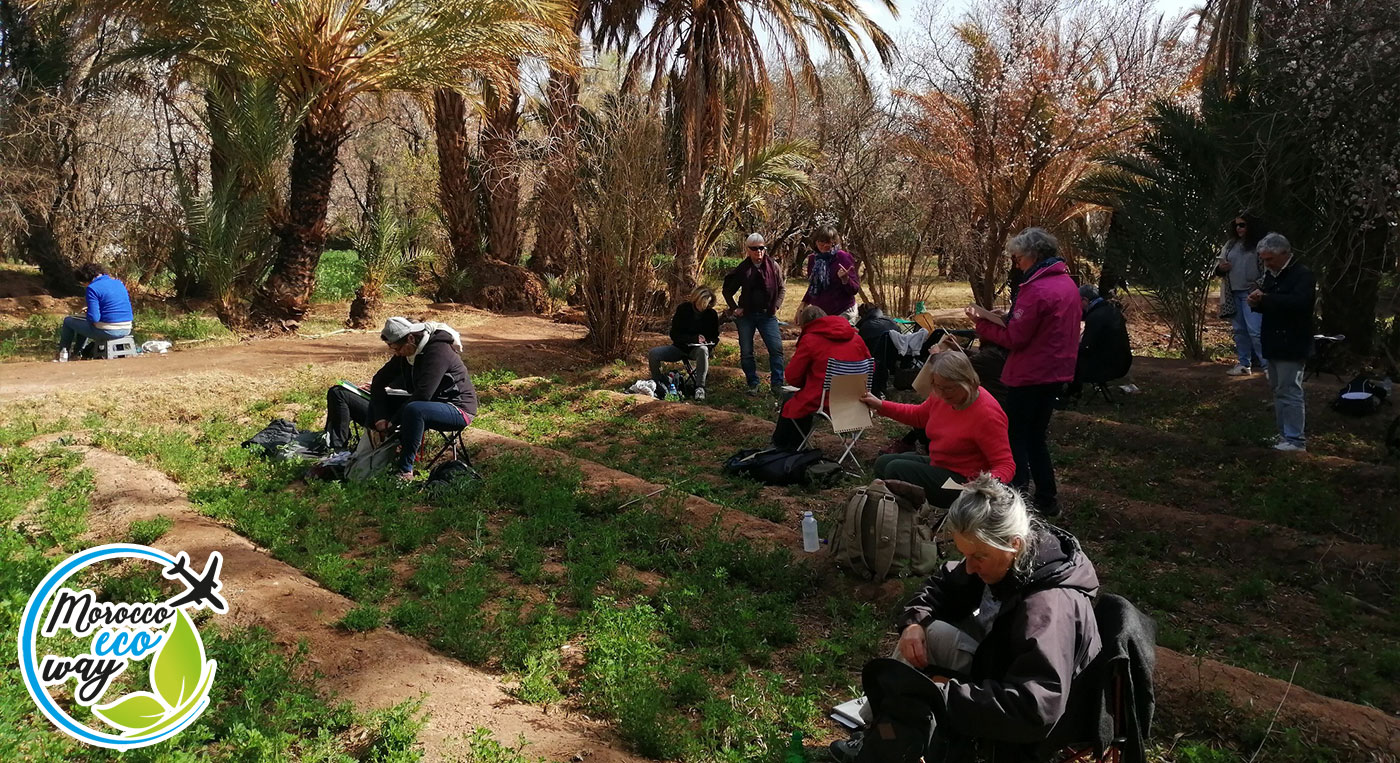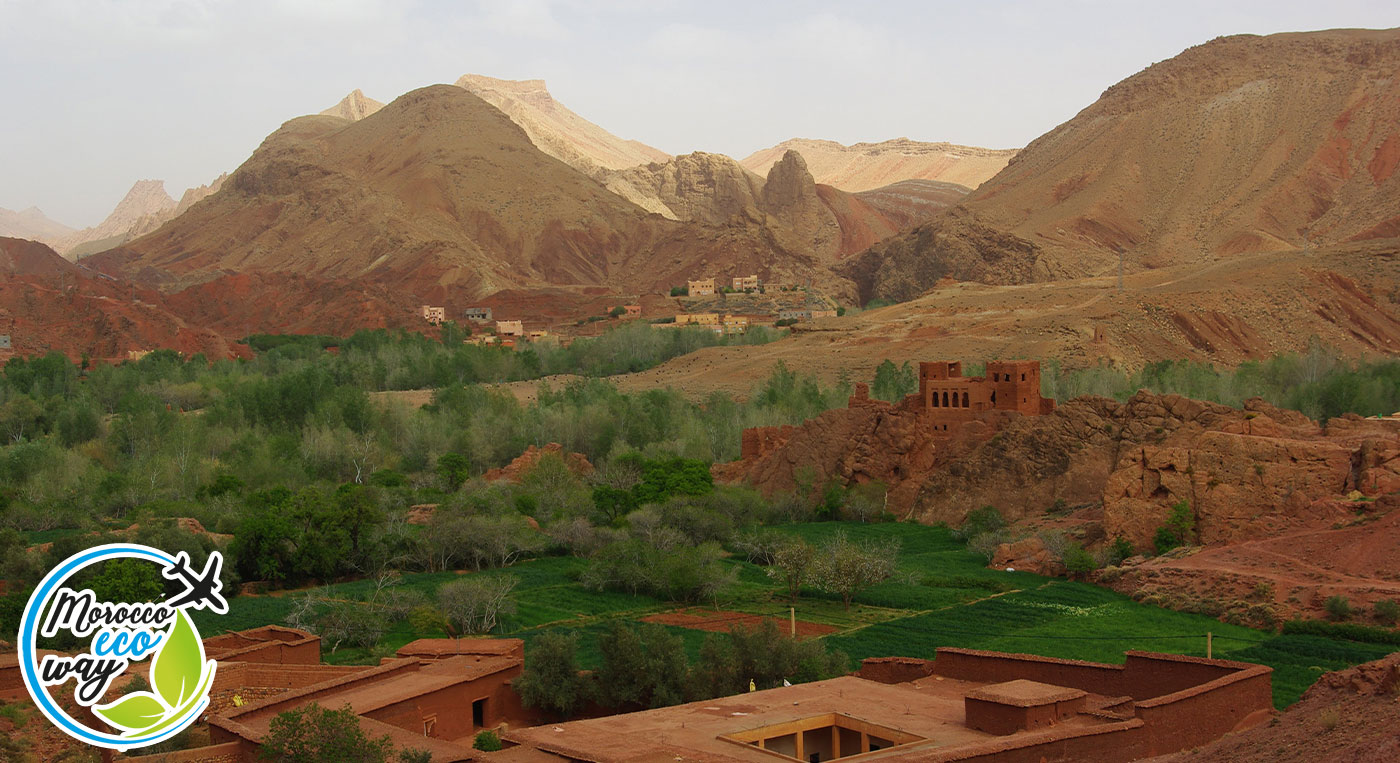 Experts in the field: Morocco watercolor 
The watercolor workshops are open to beginners and also professional artist. They take place over 9 days. Groups are limited: 15 people (maximum). They are held either indoors(in guesthouses and riads) or  outdoors in the surrounding natural environment,( the desert dunes and green fields of palmtrees). In general, it consist of both theoretical and practical approaches to watercolor.
The courses happen in a friendly atmosphere which take place in the morning and in the afternoon, 6 hours of lessons per day except the desert day 1h.
Your door towards Moroccan Watercolor Adventures and Workshops
Your door towards Moroccan Watercolor Adventures and Workshops
When people use the word "exoticism", they are probably referring to places like Morocco.
Travel to the heart of Morocco... Is to travel differently to the  great south of Morocco. Immersion into the incredible sites of this region. Historical circuits allow you to discover the valleys of Dades, Toudgha as well as the superb region of Tafilalet and Draa (Zagora). Besides, an intoxicating afternoon and night in the desert where you ride a camel on the dunes while the sun flickers dramatically on the horizon, where you arrive at the camp offering comfortable accommodation, nestled in amongst the dunes and a sense of well-being. 
We are committed to accompanying you on this unforgettable journey through some of the magnificent Moroccan landscapes. Our tours will also allow you to discover historical, cultural and traditional Morocco without forgetting the Moroccan gastronomy.
A visit to Morocco is essentially the answer to all your Lawrence of Arabia fantasies (including the whirling white djellabas): you will stay in historic riads, camp under the Saharan stars and enjoy Moroccan hospitality.
Watercolor workshops leading by Róisín Curé

1st till 9th March 2022

I want to base a workshop around the two basic ideas of becoming more skilled in observation and watercolour, and the idea of having a sketchbook of precious memories and stories of Morocco. ...
Plein-air Painting Retreat in South Morocco with Sergei Kurbatov

11 to 19 March 2022

For Sergei painting in the plein-air is the main source of inspiration. Extensive teaching experience, attentive attitude to each student, the development of a personal creative style are the basis of ...
An Austrian Artist journey in Morocco Watercolor Journal Retreat in Marrakech with Christa Friedl Available in English & Allemand

11 to 19 March 2022

Plein air painting is a wonderful way to be outside and to be totally connected to the subject ...
Swedish Royal Workshop, leading by Marie Andersson

11 to 19 October 2022

Marie Andersson is an international, full time, watercolor artist from the north of Sweden and she´s been sketching and painting her whole life. ...
Taria Dawson : Sketchy Adventures in Morocco

From the 21st until the 29th March 2022

Taria DawsonTaria came to drawing a little later than some, only discovering her desire to learn in her late 20's. Shortly after this she discovered urban sketching and was hooked. ...
The wonderful Morocco - Learn how to paint with-Ewald Hinteregger

From the 02nd until the 10th November 2021

Every painting is a special adventure although it is not neccessary to produce high sophisticated pictures. The art of watercolor lives from soft impressions and strong expressions. Both is important ...
Amazigh-Aztec resurrection through Patricia Guzman art in Morocco,

From the 23rd September till the 1st October 2021

Patricia Guzmán is a Mexican painter known for her realistic portraits in watercolor, oil and acrylic. Her work has been recognized with more than thirty awards, has participated in more than one hund ...
Artistic Exodus towards the Sephardic heritage with Alon Filian.

10 to 19 April 2022

Alon Filian is an jewish painter and painting teacher , with extensive experience in all types of mediums And serves as the team leader of the Israeli watercolor group on behalf of the Urbino Festival ...
A Beautiful retreat with the beautiful Ukrainian art's ambassador Victoria Grigorieva

From the 23rd Until the31st October 2021

Victoria Grigorieva is a professional graphic artist based in Kiev, Ukraine. After graduating from the Ukrainian National Academy of Arts and Architecture in 1997, Victoria served as Head Art Director ...
Join our lovely artist from the low lands of netherlands to the amazing hights of the Moroccan Atlas

From the 31st March till the 8th April 2022

If you want to see & follow Julia art. Join her at https://www.skillshare.com/user/juliahenzeHi! My name is Julia Henze. I'm a freelance illustrator, lettering artist, and a Skillshare teacher liv ...
A fresh drawing everyday with Hugo Barros Costa

14 - 22 March 2022

Hugo Barros Costa Architect | Sketching everyday since 2010 | Teaching at ETSA Valencia I Parsons NYC Books, workshops ...
A throwback of Persian art in Morocco

From the 01st until 09th September 2021

When talking about watercolor actually we are thinking about calmness in nature and freedom in techniques and sketches. I want to accompany you in a world of great and beautiful sensations. I'll s ...
Discover The nature beauty of Morocco with the Great Artist Margaret Horak

20th-28th of April 2022

What to expect in the class:Watercolor is the perfect medium to capture the essence of the terrain, people, sights, sounds, smells and adventure! When sketching with watercolor, you will find you ...
Lyudmila Tomova Watercolor Workshop in Morocco

11-19 of May 2022

Discover the beauty of painting expressive, powerful and loose landscapes inwatercolor. Explore the full capacity of the medium and learn the fundamentals of creating a breathtaking masterpiece! ...
Enjoy painting plein-air workshop with the Beautiful Russian artist Dina Lepchenkova

21st to 29th may 2022

I'm watercolor artist and illustrator since 2014, participant of russian and international watercolor exhibitions: ...
Art and Morrocan Cooking Retreat with The Talented Artist Yvonne Ankerman

21 to 29 September 2023

This Art Retreat will be all about recording your travel experience in Morocco with sketches and watercolours in your own Travel Journal. It is all about the creative journey, to have pleasure in cr ...
Workshop de acuarela al sur de Marruecos con Nacho Muñoz Cano

11- 18 de Abril 2022

Nacho Muñoz Cano ( Murcia, Spain, 1974)Inicia su formación artística a los 9 años. Casi toda su obra es acuarela, técnica de la que siempre se ha sentido muy atraído por su transparencia, instantan ...
Spring Watercolor Painting and graphics Retreat Hosted by Eleanor Mill

1-8 October 2022

I am a watercolour and graphics artist. Foremost I work in a realistic manner. What I reckon is that the best practice for learning & pleasure is Plein Air and Urban sketching. ...